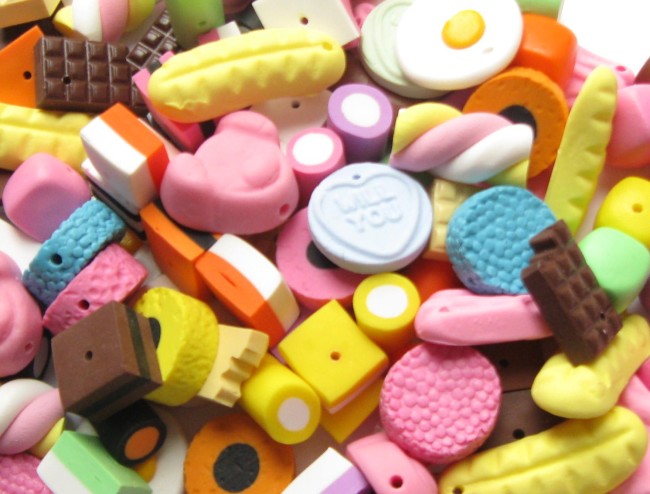 BitBasic a.k.a Simon Haycock creates uplifting glitchy electronica. His latest album entitled The Pale is out on Get Some! Records, and it encompasses a vast range of genres. Simon has unlocked the door to a musical pick and mix shop, selecting slices of sounds from a rainbow of genres, melting them together with apparent ease. Simon released his previous album Pixel Mixel on the fantastic Rec72 label, and other creations on Monotonik, and Testpilot music. I guess you could call him a bit of whiz kid, he plays live with a monome, and coded his own audio software 'dj64'.
Carefully crafted electronic compositions
It's definitely funky, with dashes of dub, grime, breakbeat, 2 step, acid, even flashes of oldskool techno. He traverses the musical spectrum smoothly, it's fun, it's energizing, it's instantly recognisable as the Bitbasic sound.
Tasty bite size surprises in Simon's musical pick and mix shop
Simon is a master at creating memorable melodies, Take care is a prime example of his ability to craft uplifting electronica. Two Days is a wonky breaks salvo with a generous serving of funk. A brief experimental, and somewhat melancholic Dinner with My bag is followed by an energetic mashup in the aptly named Smaish, combining cool vocal loops with intricate glitchy breakbeats. Now that he's confirmed his ability to deliver brilliant breaks, he blurs the lines by altering to a kicking 4/4 stomper entitled Thingerer. We're flipped back to more 2-step styled glitch in Wirral, and ascended further with the terrific uplifting melodies in We're In Hebden. Simon is a multi-talented artist, did you know he also produces music for computer games? This becomes apparent as we're treated to vocoded vocals layered with a fun chiptune lead synth, and a pumping kick in the final track Yes you are.
nodding to the likes of Nathan Fake, Four Tet and Paul White among others, Haycock is […] bringing together equally excellent and equally diverse genres and wedding them into a sound distinctly his own. – Drowned in Sound
Simon's musical, and production skills are top notch. He's masterfully merged a rainbow of sounds in this brilliant album. I know the best remedy for this sugar rush is repeated plays. Drop by and say hello to Bitbasic on Twitter and leave a comment on the Bitbasic Facebook page. Please show your support by purchasing a copy of The Pale.